> About SAMHWA > Overview
Overview
The global company with the best quality and competitiveness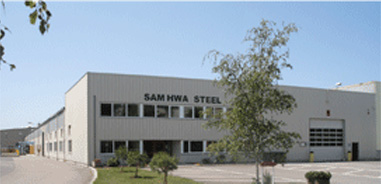 SAMHWA STEEL was founded in 1989 on the basis of the world's leading wire manufacturing technology. The company has achieved goals such as:
· The top technical level worldwide
· Secure export markets
· Job stability
· HR development
· Labor management
An example of the award presented by Minister of Science and Technology in February, 2005, the continued development of its own technology has been gradually expanding the areas from products for construction and equipment market in the beginning to products for automotive market.

The Wire rod for construction has continued the remarkable market share with excellent quality and technical support in the Japanese market. Also, due to increasing demand of the Wire rod for vehicles which is used for all European automotive brands, the company is expanding into the highly dynamic global business including operating a local plant in May 2004.

Furthermore, it will grow into a global company with continuous development of the world's highest heat treatment technology for the professional machinery industry as well as the construction and automotive markets as a core material of the main product family with the best quality and competitiveness.